With the cool weather well and truly in place now, the knitwear in my arsenal has been put to full and proper use.
jumper: Topshop, skirt: Topshop, boots: River Island, necklace: Topshop, bow: Topshop
As much as I love greys, navy, maroons and reds that can warm any soul on a cold, autumnal evenings, darker evenings doesn't have to mean darker colours.
I think pastels in these colder months can look stunning, especially among a backdrop of fluffy snow.
Speaking of fluffy, there's one thing that I love most about this cozy jumper. Not because of it's cute and perky shade of pink. Not because you can throw it on and still look put together.
It's so fluffy and soft that it feels like you're being hugged by your favourite teddy bear from childhood.
source: Style.com
Looking like it could have been part of Christopher Kane's 2013 Resort collection, I love the texture and colour of it. I am completely besotted with all the fluffy and flirty things in store at the moment, which is definitely perfect for the season, contrasted alongside all the glitzy and sparkling partywear (which my magpie eyes always spot out!)
This outfit is a bit Topshop orientated, and although I know it doesn't the most unique of finds in there, and you're almost bound to bump into someone wearing the same dress as you on a night out, or same top while you're out shopping. But I think the British high street is great, and they definitely play a massive part in that. They also have little gems in their stores, and are always on the ball to recreate the hottest trends on a more affordable level. I still remember buying my first piece of shopping from Topshop when I was 13, with all the pocket money that I saved up! It's changed it's game up a lot since then, and I would like to think my style has too!
To toughen up all this softness, I dangling some sparkly jewels and chains around my neck and lifted me off the ground with some chunky black and good boots.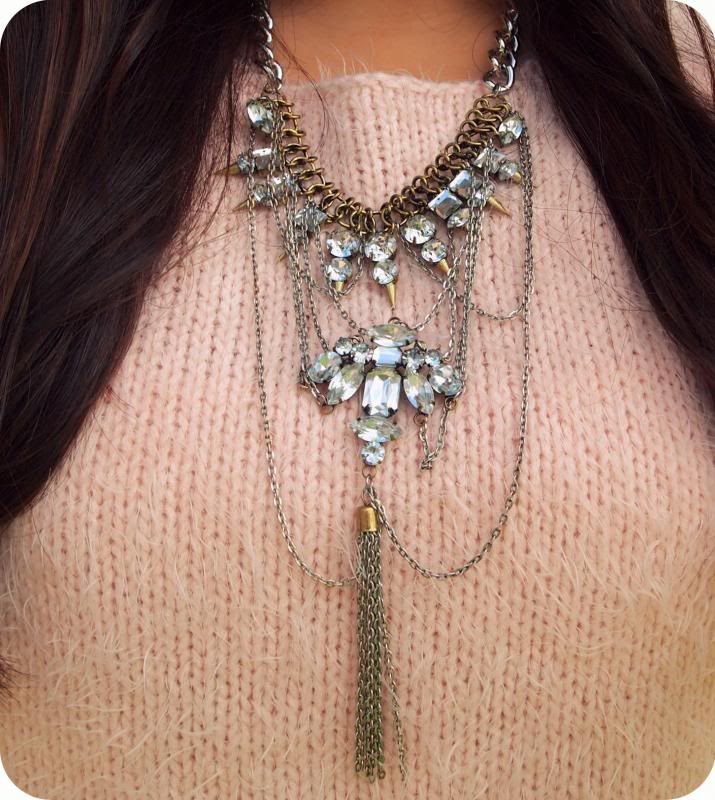 But that girly girl part of me still peeps through.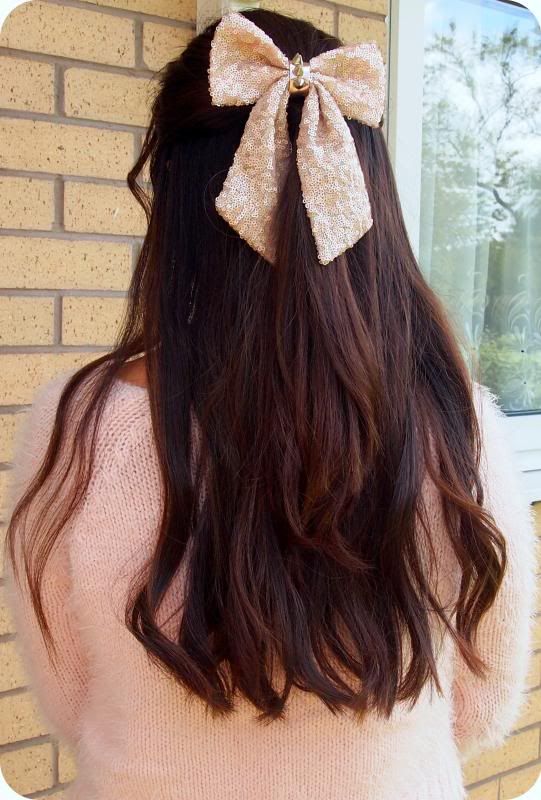 I stumbled upton this sequinned bow in the Topshop sale (it was £2! bargin!). My eyes just lit up when it laid eyes on that rose gold colour in all its sparkly glory, but what I love are the studs streaming down the middle of the bow, giving it that edge from all those all other girly bows.
Despite loving the summer,I'm really looking forward to snuggling up in more cozy kntiwear, while sitting in front of the fire, and buttoning up my massive coat while strolling down the street with all the city lights sparkling in the night sky.
Are you guys excited for autumn and winter?
Hope you're all well,
Speak soon,
A.x