Here's my life recently through the filtered lens of
Instagram
..
(Warning: contains an unhealthy amount of food porn)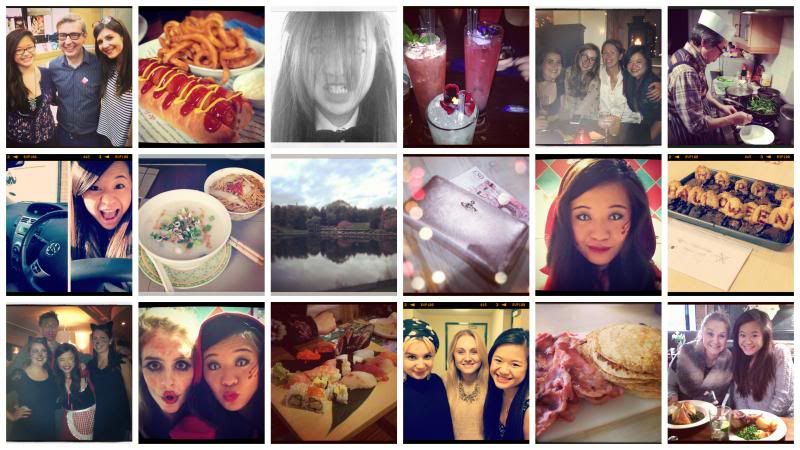 1.) anyone who knows me knows that I'm obsessed with the Great British Bake-Off, so when I met my fave, Howard, with Cat, my heart wouldn't stop fluttering
2.) indulging in a good, proper, greasy feast after my law exam...the first exam I've taken in four years...
3.) in desperate need of a hair cut
4.) any cocktails that come with flowers and Parma Violets is a thumbs up in my book
5.) while the boys are away, the girls will play! Girls night out!
6.) a trip back home always means stuffing myself full of Papa Lo's delicious cooking
7.) Sunday afternoons in the Lo household means family congee & noodles
8.) enjoying driving my lil' Cuffbert car back at home
9.) rare occasion of being in possession of a £50 note
10.) enjoying the fresh air and walk through the park after a good session at the gym
11.) my Halloween alter-ego of a wols-attacked, bloody Little Red Riding Hood
12.) flat fancy dress effort for Halloween
13.) how has Kim not been part of my life until now?!
14.) splurging out on some of y favourite food, sushi time!
15.) these 2 beautiful ladies, Hannah and Iyesha, from my undergraduate uni course, came to visit and stay!
16.) bacon and pancakes, the breakfast of champions!
17.) ending the weekend in the most perfect way, spending Sunday in my favourite pub with a proper good roast with proper good company
I'm
@amylo_92
on instagram, go and follow me or comment so I can check some of your instagrams out, as I'm always on the hunt for new ones to scroll through!
Hope you're all well,
Speak soon,
A.x