As the new week begins, I spent the past few days back at home, with family and as always, lots of food.
But last weekend was a whole other story.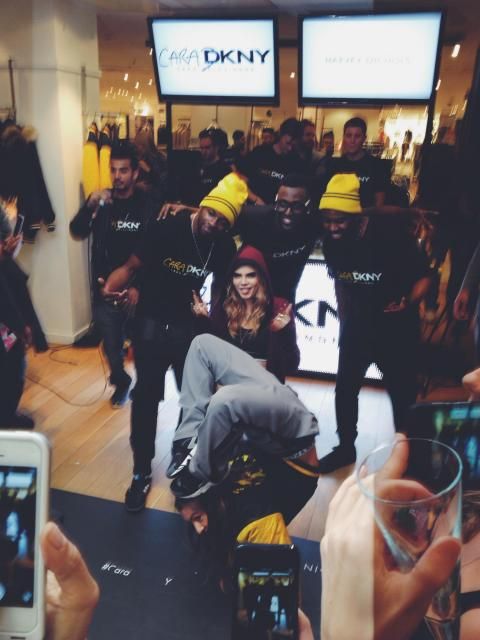 I was meeting my friend and former roomate, Hannah (Who's been featured on this blog many a time!), for a late lunch, as she had an event to go to first, and work at.
Next thing, my phone rings - ringtone being 'Boys Don't Cry' bu The Cure, natch.
"Hey! So, we're having an event for Cara Delevinge's new collection with DKNY. We can't post anything on social media at the moment, but do you want to come? There's cocktails!"
I immediately jumped on the tube.
When I got there, I was greetd by beatboxers, cocktails and champagne aplenty, angelic singers, and dancers whose bodies may as well have been made out of liquid.
Hannah was running around, snapping away, and doing her thing - it was really cool to see her in her element, working her lil bum off!
I felt an odd sense of motherly proudness!
The even was kept under wraps and drove up lots of excitement, with teaser tweets from Harvery Nichols, and Cara posting cryptic clues on her Instagram - it was like a fashion scavenger hunt!

When she arrived, it was absolute mayhem.
And the goddess herself was just as beautiful, and pulls just as many ridiculous faces in real life, as she does on social media.
And despite the look of absolute shade that I'm throwing at Cara here, the fact is, I actually love her and her power brows! But this photo does make me laugh, every time haha.
The collection is the perfect mix of the effortless style of Cara, and the New York chic of DKNY - it just oozes 'cool'. I'm completely loveing the bomber jacket with the embroidered lion on the back - RAWR!
Always food.


We then decided to do something as silly as the both of us - we went to a Japanese photobooth.
And it was everything we could have wished for and more.


With me as a lover of all things kawaii, and Hannah fawning over all things asian, this couldn't be more perfect.
I wish I had a video of us scrambling around in the photobooth - we were climbing up frames and throwing on wigs.
Afterwards, we scribbled on animal ears and donned unidentifiable Japanese and Chinese symbols, to create our works of art.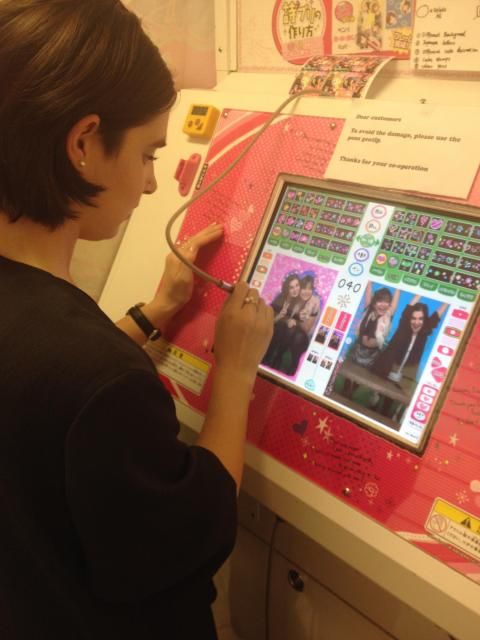 We were taking it much more seriously than we probably should have done.


But what emerged wwas a sparkly (literally) masterpiece! - I absolutely love it and all it's ridiculousness haha.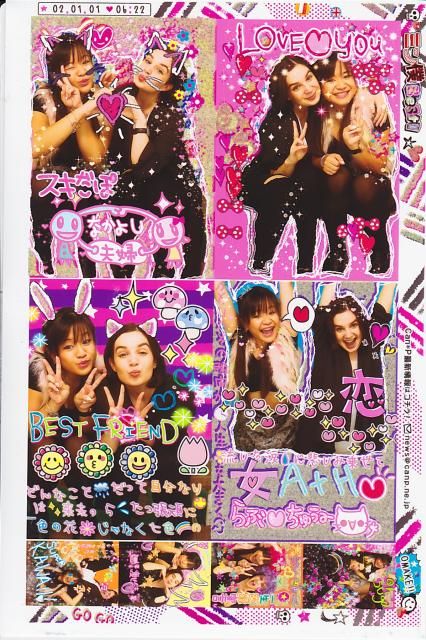 Images: mine and Hannah's
It makes me smile every time I see it!
This past weekend was quite the contrast. I lounged around in my bed while reading. I had tea and watched Strictly with my parents. I baked till my heart's content. I shared laughs with my brother and sister-in-law. And stole lots of cuddles off my lil nephew.


I think having a balance is so important.


Through all the fun and event-filled weekend, you also need time to wind down with the ones you love, because fun times usually also equals hectic times too!


What have you been up to this weekend?
Have you been chilling in, or going out?
Stay sassy & stay happy!
Until next time,
A.x