I am pretty hungover and nursing a big mug of tea while I type this.
The reason for this will become apparent further on in this post. I know you're all sitting on the edge of your seats eagerly waiting to know.
(UPDATE: I started writing this yesterday, and am thankful to say the hangover is well and truly gone after lots of packets of McCoys flame grilled crisps and a much-needed journey to sleepsville.)
This week, I think I've reached the peak of my festive spirit thus far, have travelled across the country and have spent a lot of time tangled up in my duvet.
7 favourites...
1.) THIS BAG. Yes, it's a milk carton. No, it's not the most sensible thing in the world. And yes, it's amazing, thanks for saying so. I love it. And judging by the amount of times I got stopped by people who complimented, a lot of other people love it too.
2.) This book got sent into work when I was at Now, and I know you're not supposed to judge a book by it's cover, but c'mon, how can you not with this pretty site! Oh, and it's a joy to read as well. Kind of important for a book.


3.) I haven't listened to The Kinks in AGES, and their songs are just incredible - lyrically and musically. I love them and have missed them, and have been on a listening binge. 'Sunny Afternoon' is always winner.


4.) Being back home for Christmas is absolute bliss. Copious amounts of tea, a fireplace, my dad's ever-amazing food, driving my little car again, and my bed (GOD I'VE MISSED THAT BED). I refer to many places as home - like when I'm in London, I say I'm going home, as in back to my flat - but there's just nothing quite like your true home.
5.) I had a big Christmas dinner with a whole bunch of my friends from school. I'm very lucky that I've gathered some pretty great people as friends throughout life. And it's not that often that you stay so close to friends you made when you were young. But this not-so-little bunch (there's nearly 20 of us...) that I made at school, are still here even after leaving school 4 years ago, with uni, jobs, and relocating along the way. It's pretty rare that we can ALL get together, and even though there were a few absentees who we missed, it was just really nice that after all this time, we were still laughing, drinking, hugging and shouting 'Cheers!' just like we did back at school (which also solves the mystery of the hangover...) It was ridiculously fun and just what the festive doctor ordered.
They're bloody good eggs. Ever single one of them.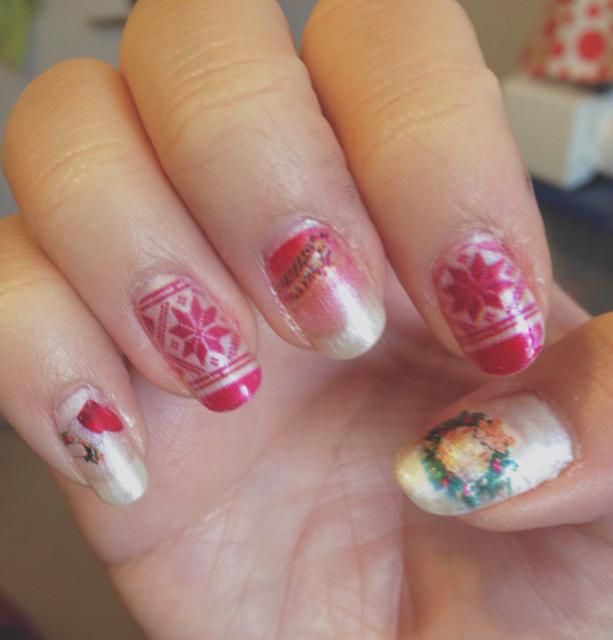 6.) Look at these nails. They're festive as balls baubles! My aunt has just gotten herself a snazzy machine that lets you print ANYTHING onto your nails - she runs a salon, she isn't just really extravagant with her nail art. I'm going to be taking full advantage of it thanks very much. Next stop, Mean Girls nails...
7.) I'm at my brother's house at the moment, and there's been some seriously lovely family time. There's been pub grub, and I've spent the day singing along to 'Frozen' with my nephew & niece (no, I'm not sick of the songs yet thanks very much). I flipping love being an Aunty - you get to have all the fun, play with toys and hear all the hilarious things that kids come out with, without any of the responsibility or mess of nappies or tearful tantrums. Winner.
3 thoughts...
"WHY have you done that?! We were never just friends, and we definitely aren't friends now!"
"How much do you have to blend out black eyeshadow before it stops looking like a panda..."
"How have I got SO many clothes?! This wardrobe is jam-packed and I want to wear it all!"
1 outfit...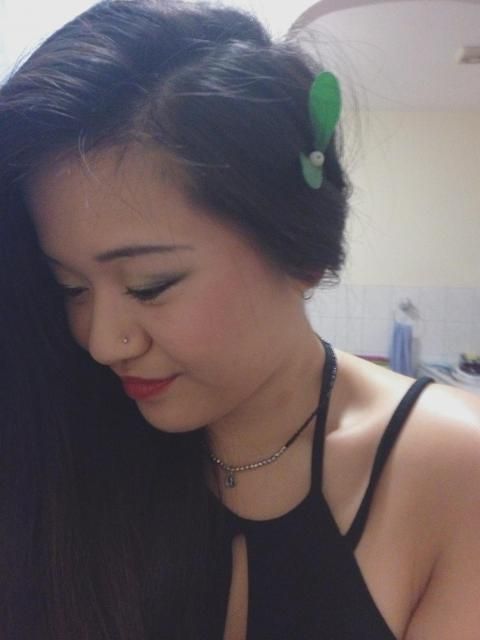 dress:ASOS, boots:ASOS, belt:ASOS... (I promise this isn't sponsored by ASOS, I wish it was though!)
Sometimes, you just can't beat a LBD. And I went all-out for my Christmas night-out. My favourite belt that makes me feel like a WWE wrestler was on, there was mistletoe in my hair (cheeky!), and I even had shimmery gold and black smokey eye make-up. I never wear eyeshadow! And after a long and exhausting hunt for the perfect pair of over-the-knee boots at the perfect price, I finally found these babies and I love them, love them, love them!
What's your week been filled of?
Stay happy!
Until next time...
A.x