Elie Saab is one of my favourite designers, ever.

I love everything he does, it is just the epitome of femininity, and being the the uber girly-girl that i am, i just drool over all the majestic, sparkling pieces he does, flowing down the catwalk. There is just this effortless combination of old-school glamour and the modern day woman.
His Couture collection for Spring 2013 was no exception, the shapes emphasized the female body beautifully and i particularly loved the sheer parts that exposed just the right amount of skin, giving the appearance that the lace had been spray-painted directly onto the body strategically.
I just want him to deck out my wardrobe in all his feminine magic!
While usually dealing in one tone or colour on a piece, Elie Saab dabbling in some print and pattern which i thought added lovely depth to it, as if it was from a mysterious woodland.
I also lusted over how delicate this material is, like cobwebs with flowers blooming it around it.
I also liked the use of a pure and clean tone of white that was used for a lot of the collection, and am absolutely in love with the baroque, shoulder detail.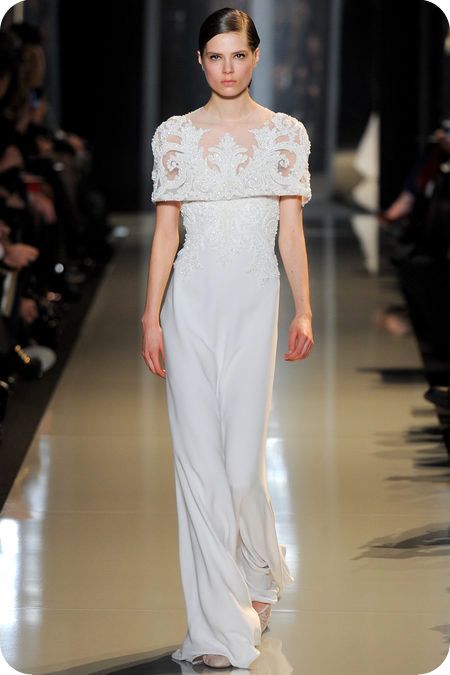 Valentino also made use of these neutral and clean tones, in conjunction of such detail, as not to overwhelm the pieces: subtle yet intricate, and thought the collection had a beautifully eerie and mysterious feel to it.
Also, these dress shapes by Valentino are so clever and just absolutely stunning!
As much as I love snuggling up in some comfy knitwear, i am a bit of a summer gal at heart, so all these girly spring collections with more skin showing is making me smile.
Are you looking forward to Spring Summer '13? Have any collections really caught your fancy?
Images: Style.com
Hope you're all well,
Speak soon,
A.x