I know all I seem to be posting about recently is how brilliantly the weather is treating the good ol' U.K, but it's not often we get so much glorious sunshine for more than a day or two, so I'm just soaking it all in!
There's nothing I love more than swirling around in a summer dress after I've slipped on some fun and flirty wedges.
I've had this dress in my life since I was about 15, but being quite a chubby teenager, it was always a bit of a squeeze, but after becoming happy with my body and eating habits in my young adulthood, with healthy cooking and regular exercise, I'm now always happy to zip up into this stripey number.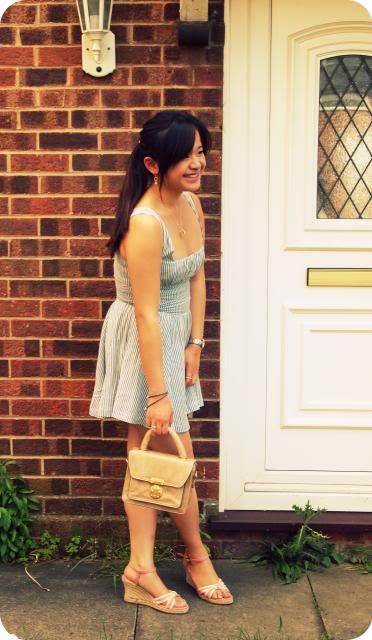 dress: Kate Moss for Topshop, wedges: Nine West, bag: Topshop, jacket: from Madrid
With my hair up in a playful ponytail and boxy bag in hand, I threw my trusty biker denim jacket on, precariously placed my sunnies on my head.
If all the chirpy cheerful-ness weather wasn't enough, I had my 1st BBQ of the year, which means summer has now officially commenced!
There's nothing like a platter of yummy food with the blissful sound of sizzling to your years, add in a killer drink of Pimms, it just made it complete bliss to sit in the sun and enjoy this with friends.
Pimms o'clock!
Have you guys been enjoying the sunshine and having BBQs? What does your summer style consist of?
e
Hope you're all well,
Speak soon,
A.x