As you know, I headed down to the Big Smoke to support my classmates, friends and university.
Having to get up at the silly hour of 4.30am, and being on a coach for 4 hours in total, I definitely had comfort at the forefront of my mind, however, being a fashion student at such fashion orientated event of Graduate Fashion Week, and just generally caring what I look like (how vain), I thought turning up in my pyjamas or onesie probably wasn't ideal...
Slipping into my slinky trousers, that swished and swoshed in the wind, like the waves of the sea rippling on the sand, I hopped up into my blue-hued shoes.
I love Libertys, the store, the brand and it's ethos, and their prints. So when they collaborated with Clarks (who always make shoes so comfy!), I had to nab my hand on a pair!
I'm a big fan of wedges, which are so versatile and a staple in my eyes, and in such a vibrant colour and print, I just couldn't resist their beautiful charm.
cardigan: Hannah's wardrobe, trousers: Matalan, top: Asos, wedges: Liberty for Clarks
With these trousers having the magical power of lengthening my petite legs, I contrasted this with a simple, black and borrowed a cardigan from my housemate, which I just love the sheer panels in.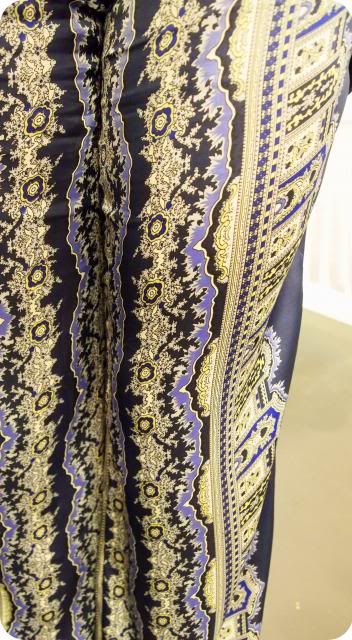 Picking out the golden tones within the trousers, I highlighted this with some gold and bronze accessories, with a new addition of lil' initial ring adorned on my pinky finger (which I can't get over how cute it is!)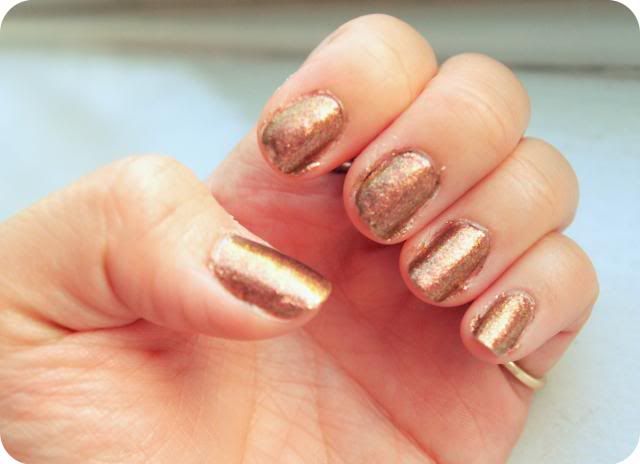 ring: Topshop, earrings: Topshop, nails: Warm&Fozzie (The Muppets for OPI)
While looking through my photos as well, I got reminded of two stunning and beautifully clever pieces by Jousianne Propp from the Manchester School of Art.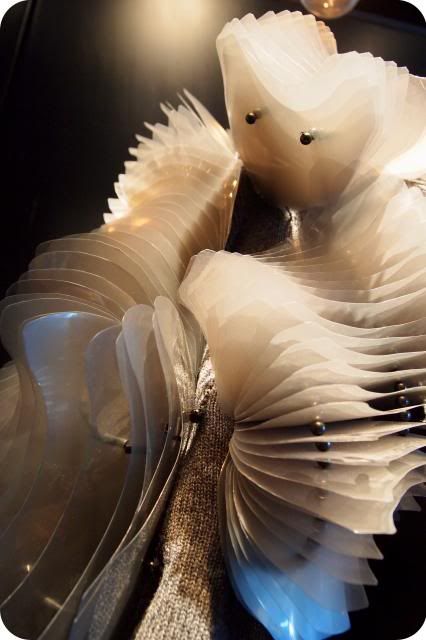 I love how she's used a hard material and has layered and transformed it into something delicate and beautiful. The mix of materials also made me lust over her jumper.
On a completely different note, I've been watching the Britiain's Got Talent final tonight and cannot believe how brilliant all the acts were on there, and I especially enjoyed all the acts that got me in stitches and have loved the increase in comedy acts. (And I just love David Walliams in general and his cheeky behaviour!)
Did any of you watch it? What did you think?
Hope you're all well,
Speak soon,
A.x