For a lil gift and birthday celebration, earlier on this week, i ventured into London to have a rather special afternoon tea with some of my closest friends at The Berkeley Hotel.
Now, i know for many young people my age, they would think "an afternoon tea?....how boring!", but for me, and i know also for many of my friends, there's nothing like a good cuppa! So for me, and the rest of the tea party being pretty big tea drinkers and cake lovers anyway, it was an amazing experience!
With a dress code to fulfill i slipped into this beautiful and whimsical dress that i got given as a gift and have never had an occasion to wear yet. I absolutely love it, and how it's elegant, feminine yet still fun and quirky, which is how i would like to think that i dress normally. The old-fashioned circus prints are beautiful and adorable, and the beads that glisten as you move just gives it that extra special touch.
To stop it being too formal, and more relevant to my style age, i finished off my outfit with my trusty leather jacket and a zingy, lime green bag, with the cherry on top the cake being this beautiful necklace which was 21st gift from my parents.
When i was younger, I would always see these teddy bears holding a big key and want one, but my mum said they were for people when they turn 21, and get given the key to their adult life and world. Although it may not be that teddy, i now have my very own shiny key.
The afternoon tea is called Prêt-à-portea, with all the sweet goodies inspired by this fashion season's catwalks. It was so peculiar and funny to be sat round a table saying "oh, the Burberry's really yummy!", hearing cries of "oh wow, the pistachio handbag is delicious!", and being asked "have you tried the Fendi shoe?" It was truly special and indulgent.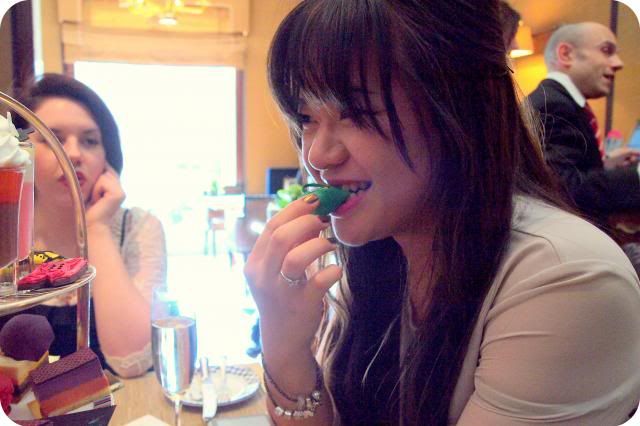 The sandwiches and canapes were so moreish and the cakes were so clever and beautiful, and the service was brilliant, we even got given a doggy bag of left-over goodies to take away! And they are the most amazing take-away bags I've ever laid eyes on!
If you get the chance to go, for a special occasion or treat, i would definitely recommend it! If you want more information, you can look on there website here:
http://www.the-berkeley.co.uk/fashion-afternoon-tea/
It was just a wonderful adternoon spent with beautiful and delicious food, sipping on tea and champagne and just absolutely lovely spending time chatting and sharing uncontrollable giggles with friends.
What do you think to afternoon teas? A bit boring or civilised and relaxing?
Hope you're all well,
Speak soon,
A.x