Beyonce, Cara Delevinge, Victoria Beckham - it's all very well and good having style inspirations and constantly double-tapping looks that you're digging on Instagram. But remember when you were a little sprout of a human being and didn't even know what 'fashion' and 'style' were? You turned to your fave fictional friends when deciding whether to wear your tutu or turn-ups for a day of play.
Think it's time we showed a bit of loving and looked at our childhood chums to inspire our wardrobes once more!
Gadget from Chip 'n' Dale Rescue Rangers
No-one works a jumpsuit and crop top quite like Gadget. Functional fashion at its finest, this lil' chip not only looked cute as a button in sweet shades of sugarplum purple and pink, but she also knew how to fix a plane or two. And yes, only she can pull off those goggles unfortunately. The rest of us would just look like part of steampunk movement…
This bunny could run circles round you on the court, while swooshing her ponytail – I mean, bunnytail – and looking effortlessly cool while doing so. Taking sportswear as fashion to a whole new level in her Toon Squad co-ord set, she could give off-duty Cara Delevigne and Kendall Jenner a run for their money. And can someone tell me how she doesn't get a sweaty fringe while doing all this hopping around please? Bane of my life.
The Ashleys from Recess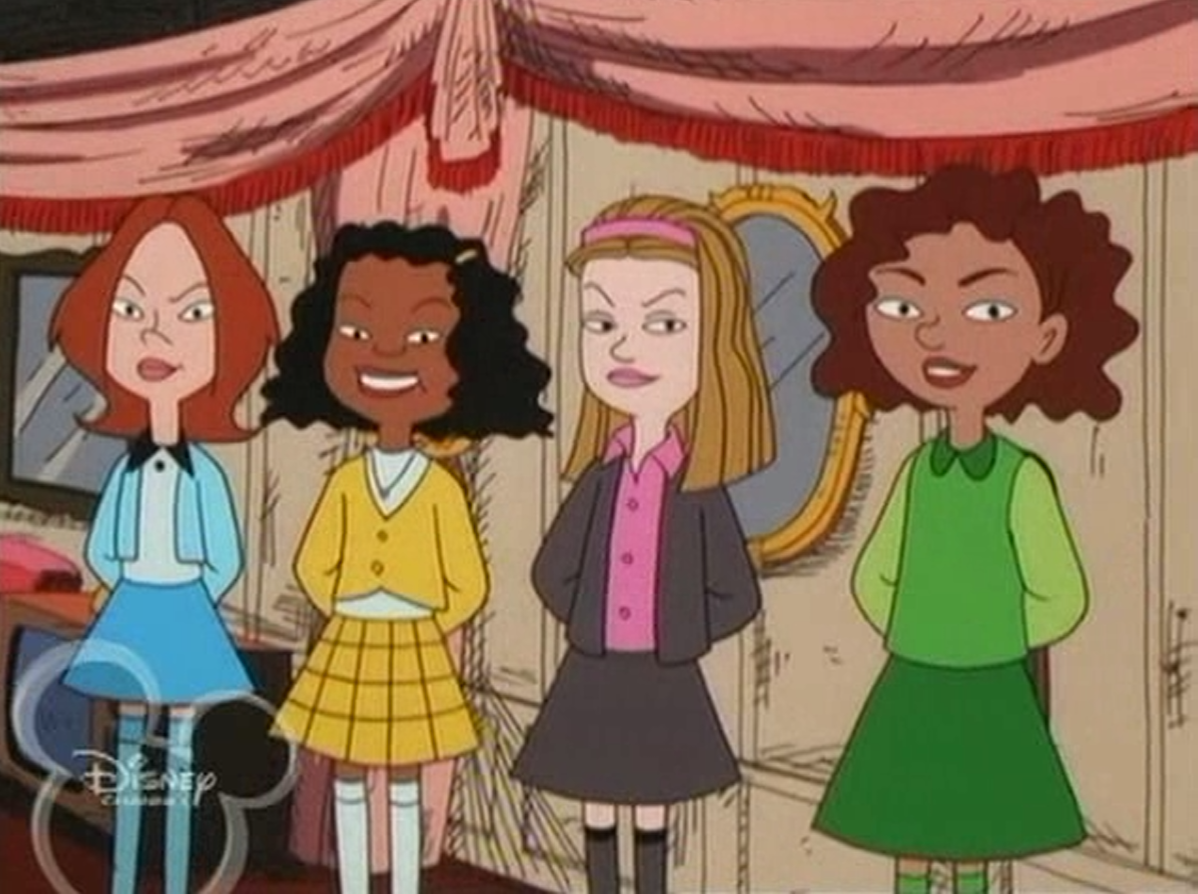 These girls may have been like the Mean Girls of the playground, but their outfits were the Clueless equivalent of the animated world and could teach Cher Horowitz a thing or two.
Yellow plaid and fluff-lined cuffs on cardigans. My magpie-like tendencies for all things kitsch are a-tingling.
Jane was basically the bad-ass girl I longed to be as a goody two-shoes kid. That ear jewellery. That sharp black bob cut. Those boots! Her signature red shirt that she probably just threw on as she woke up and strolled into school late with her backpack slinged onto her back. Too cool for school. Literally.
This cartoon somehow being a staple in my childhood and I just remember being in absolute awe of Clarice singing on that piano, in what I now recognise as quite a weird, sultry Jessica-rabbit-esque way...as a chipmunk... But! Nonetheless, that doesn't erase the fact that that pale yellow necklaces and head crown are just fabulous. Especially when worn with a strapless bodycon LBD (little blue dress).
My love for bows and pastels colour, coincides with my outrage at how under-rated Daisy Duck. The girl knows how to accessorise! Yes, Minnie Mouse may be the queen of all things polka-dot, but co-ordinating a pink bow and heels, that compliments her matching lilac top and eyeshadow, all while setting it off with a jade green bangle? On. Point. She's a dreamy pastel dream wrapped up in uber-fluttery lashes. The epitome of girly girl y'all.
Disney Princesses
Look. You all already know that how much of a Disney nut I am from the time I've dressed up as a princess (more than once...) and how much Disney Princesses are my ultimate hair goals. But they're also style goals - and it's not all just prom dresses and tiaras y'all.
Pocahontas was all over fringing and suede before the 70s fashion revival rolled up into town, Aurora is the queen of working a hooded cape without getting hat hair (also, that shirt and corset layering is to DIE FOR), Jasmine knows how to accessorise her harem trousers with a gemstone headband and gold jewellery to a tee, and no-one has ever looked as good in Scandinavian embroidery and ribboned up braids than Anna from Frozen.
Oh, and let's not forget villains! The fierce headgear of Maleficent and the Evil Queen's robe - being bad never looked so good.
If you're looking for some nautical style inspo, then look no further than the scouts of Sailor Moon. Striped collars, jewelled toggles and neckerchief bows should be given as a starter pack to go with any kind of pleated, preppy skirt (who knew wands made such good accessories as well?)
Even off-duty, these girls always looked as cute as a button! And let's not even get started on their hair. Growing up watching this anime gave me major swishy, shiny hair envy that I'll never be able to achieve.
Wonder Woman
We all know red, white and blue work flawlessly together, but no-one wears it quite as well as Wonder Woman herself. To fight crime and look like a bangin' super-babe with a golden crown while doing so as well, is no easy task! (How does she not constantly get wedgies in those hot-pants or spill out while running in her corset?!) And who needs a belt when you've got a lasso of truth!
She-Ra
Oh, and let's not forgot what a sassy sister She-Ra is as well! Gold is obvisouly the superhero's choice of metallic (can someone tell me where I can get some get some gold boots please) but it never looks as amazing as when it's paried with bright whites! The Princess of Power is also the only gal I know how could pull off a crown decorated with ornamental wings and NOT look like an absolute tit!
No-one can work block stripes quite like 3 girls who are made sugar, spice, and everything nice - must be chemical X malarky. This is a perfect example of how basic staples can be worked into different looks or styles. Tomboy, chic or kawaii - Blossom, Bubbles and Buttercup have got you covered!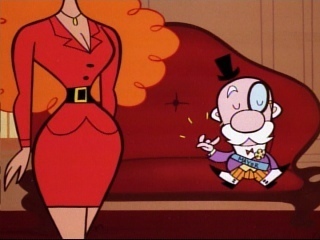 And let's just take a second at how fierce Miss.Bellum is working that power suit (and how much patience she has for dealing with that dozy mare of a Mayor of Townsville!)
If you'd told me that you can work a pair of pink tights without looking like a fool, I would've laughed you straight out of the hosiery department of the store. But Daphne has managed to make it work flawlessly while getting changed into a purple shift dress and lime green scarf in the back of the Mystery van. 70s vibes to the max - groovy!
My love for dungarees started from a young age, and it was probably due to my love of Pokemon as well and how well Misty wore her red braces with her denim shorts. Unfortunately, as a 23-year-old with long dark hair, I can't work and short and spunky side ponytail as well as her. Might be something to do with the fact that I don't have the power of a Togepi by my side.