This pastel princess has gone a bit khaki crazy.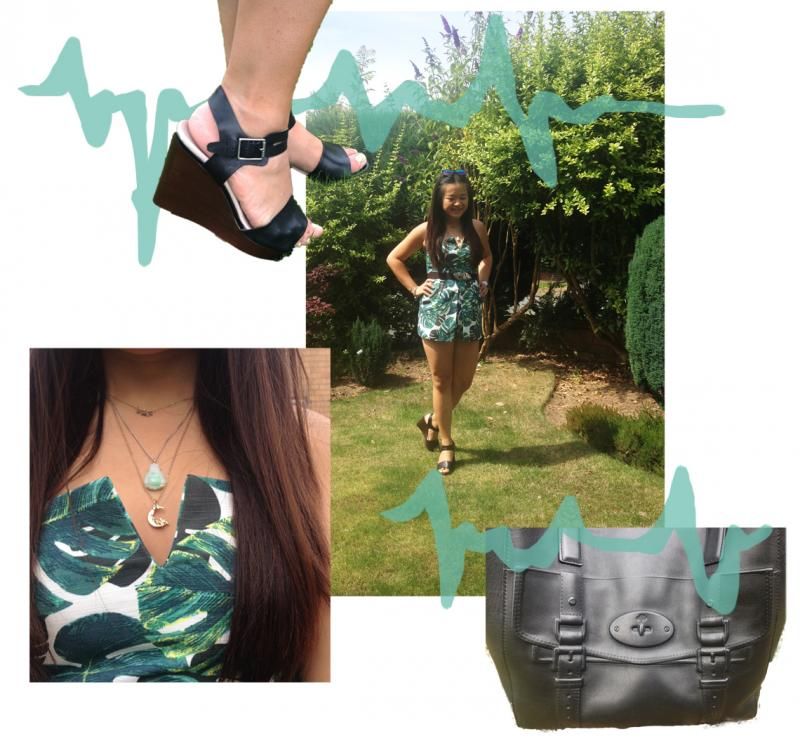 Continuing with my love affair with strapless items, this playful piece has become a firm favourite of mine that I keep whipping out day & night.
What's not to love about it?! It's got a beautiful playful print on it, it's geometric cut makes it' a bit different and interesting, especially with the layering of a skort design (which also means you don't have to worry about any accidental flashes or embarrassing Marylin Monroe moments!), and it looks flattering on every body shape.
I remember one year, one of my New Year resolutions was to wear more green (obviously out a lot of thought went into that particular year's resolutions), and this lil' outfit kicks that resolution right out of the park - even Kermit the frog would be proud
As if wrapping myself in jungle leaves wasn't enough, I threw my new favourite jacket on top in all it's khaki glory (which incidental, I bought the both of these items together, which made my friends call it my Jungle Jane outfit). With a brass belt to tie it all up, my trusty black wedges and bag, I was ready to go on safari! (I even had my magical, rainbow sunglasses, which every person should have as they instantly make you happy!)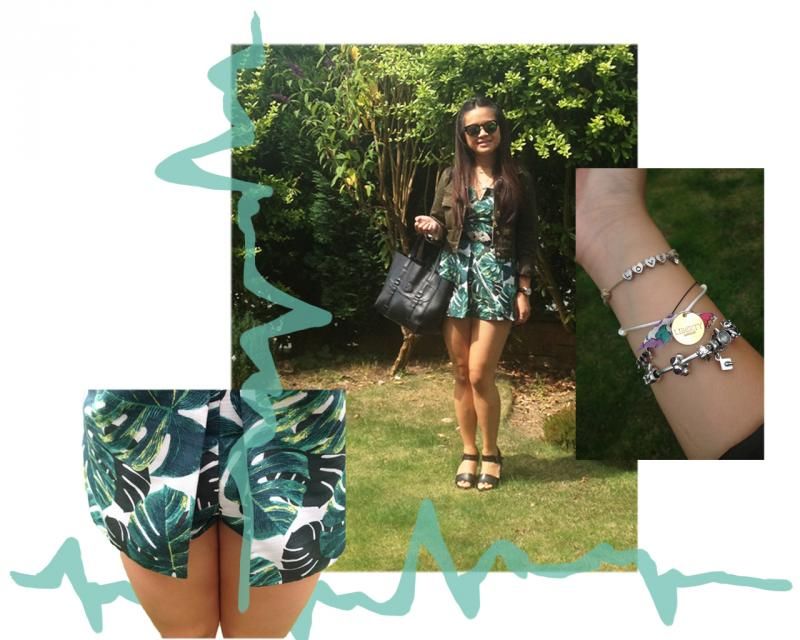 playsuit:Topshop, jacket:Topshop, shoes:Clarks, bag:Mulberry, sunglasses:Urban Outfitters
My arm candy game has been stepped up recently. When I was younger, I stacked so many bracelets and bangles on my arms, it sounded like a cattle of cow bells! Now though, I usually just slip on my Pandora bangle with all it's meaningful and cute charms that people have given to me over the years - but after buying a lovely lil' friendship bracelet from Liberty that's simple and sweet, I re-discovered some of my old ones and have been layering them ever since.
This outfit is literally something I've been pulling out of my wardrobe constantly. Skorts are so underrated (and not like that kind that I used to wear and to play netball!). They're not only stylish and different, but comfortable and practical too - the est of both worlds! I definitely think that skorts and playsuits are a go-to for summer, and if you're looking for a way to save on your summer essentials, then you should head over to
Raise.com
- they're the 1st online marketplace where you can
sell
your unwanted gift cards, and
buy
discounted ones to your favourite stores - Genius! (why didn't anyone think of this idea before!)
They have brands from Victoria's Secret to Starbucks - so there's something for everyone!
Now, I may not be Katy Perry in Roar, but I can certainly be Jungle Amy in life!
images: thatgrapejuice.net, e-online
What are your essentials when it comes to summer?
Hope you're all well,
Speak soon,
A.x