This week saw the yearly return of the Met Ball, and the web was
bombarded
with photos of beautiful dresses that put Disney Princesses to shame.
The Met Ball is a annual fundraising gala for the benefit of the Metropolitan Museum of Art's Costume Institute, and every year there's a dress code and theme, and every year, I get completely bowled over by how amazing and beautiful everyone looks in their gladrags.
I love the Met Ball - it the one night that everyone has that old-school Hollywood glamour,
especially
now, when the world is filled with quick Instagram snaps and tweets that share your opinion with the world before they're fully formed in your mind.
These were some of my personal favouri

tes, that make me wish I could wear long, trailing,

beautiful dresses everyday, which wouldn't be inconvenient at all....
Chanel Iman and Lea Michele both wore silky and slinky metallic numbers that looked like liquid wrapping around their body, and Jordan Dunn was a ray of sunshine in her deep cut frock....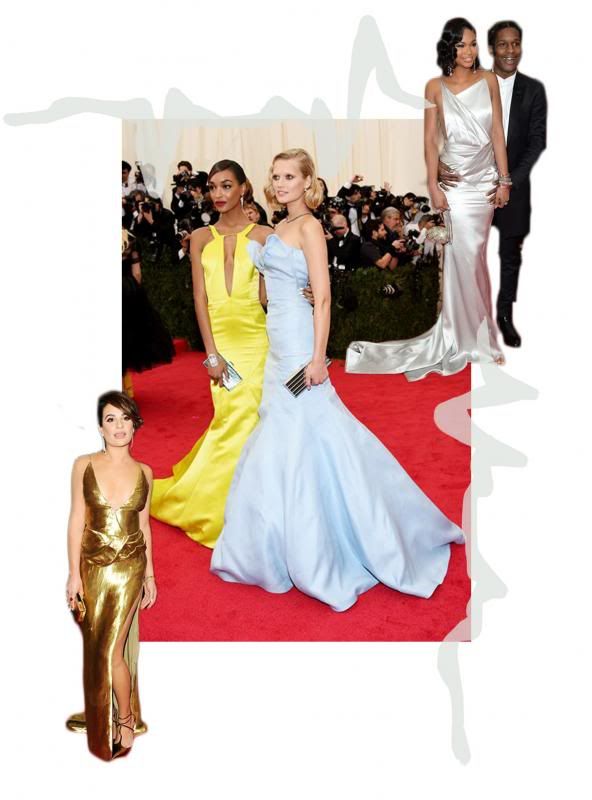 Lea Michele in Altuzarra, Jordan Dunn & Toni Garrn in Topshop, Chanel Iman (& A$AP Rocky) in Topshop

...Emma Stone and Joan Smalls brought a fresh vibe to the event, while still looking tip-top,with sporty crop tops, fushia tones, blue lips, and braids that Rapunzel would be envious of.

Georgia May Jagger upped everyone's heart rates with her sultry take on a tux. And Cara Delevinge took the rule book, and made them her own, n her sexy and smart black and white two-piece...
Emma Stone in Thakoon, Cara Delevinge in Stella McCartney, Joan Smalls in Vera Wang, Georgia May Jagger in Mugler
...Kylie and Chloe Moretz both looked angelic and pristine, with Kylie looking liked she was plucked out a line-up of Greek goddesses, and I love Chloe's addition of a long black tie. Kendall Jenner was a vision of champage dreams - this dress is just classic and timeless, the shape fit her perfctly, and it makes me so proud to know that it was made by the Birtish high-street! Blake Lively and Ryan Reynolds were the Barbie and Ken of the ball, and I love the train draping down from her shoulder, trailing behind her.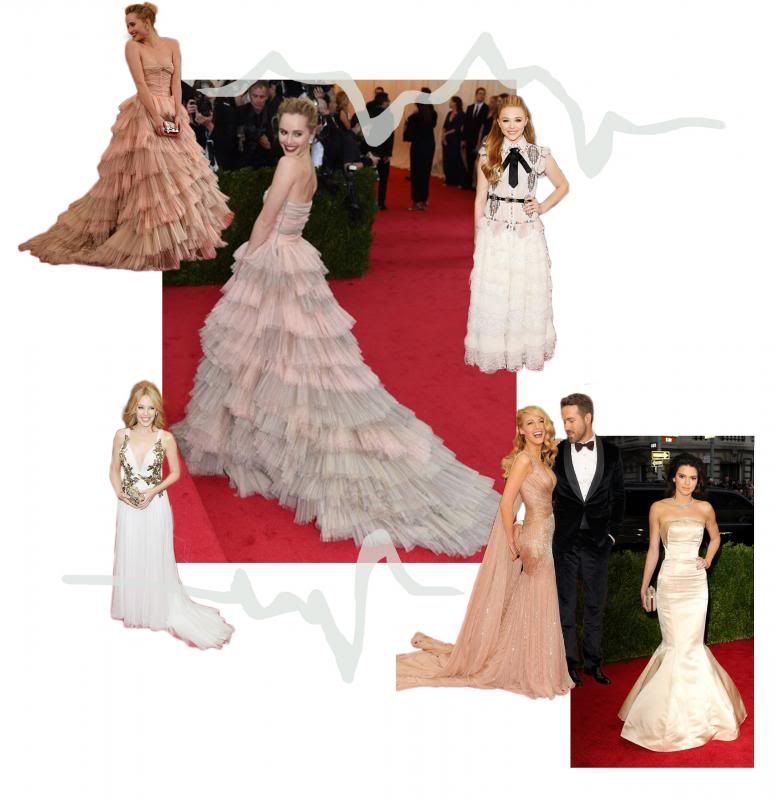 Suki Waterhouse in Burberry, Kylie in Marchesa, Chloe Moretz in Chanel, Blake Lively and Ryan Renolds in Gucci, Kendall Jenner in Topshop
But the absolute belle of the ball for me, was Suki Waterhouse - look at that beauty! (and I'm not just talking about the dress!) She looked like an absolute pristine princess, encased within tiers, upon tiers of ruffles and frills.
Who's dress do you wish you could play dress-up in?
Images: Vogue
Hope you're all well!
Speak soon,
A.x