When I was about 15, I had a Paul's Boutique bag (yes, one of those) and I absolutely loved that pink purse in all it's plastic goodness. And whenever I used to carry it, hanging off the nook in my arm, my brother used to exclaim, "Oh look! Here comes clueless!"
Being a wannabe punk and a immersed in the world if all things emo before, I found this such a slap in the face, but the more I've watched Clueless during the years as I've grown up, the more I love the outfits in it and feel nostalgic about the fashion.
Everything from the neat headbands and knee-high socks, to a shirt in every colour to match every outfit.
I've been loving all the dreamy and soft texture of feathers and fluff that been making an appearnce in the shops and in my wardrobe recently, and Cher is definitely the poster girl for this.
My favourite outfit throughout the whole film though, is this sheer little number, which when I saw it, I paused immediately and rumamged around my room to see how I could recreate my own version at home. I lvoe everything from the longline, pleated, sheer shirt, worn over a argyle skirt, and topped off with a fluffy, sleeveless jumper.
The wardeobe of the Clueless class has not been ignored though, as relaed, luxury brand Wildfox tapped into the film and created it's own little Clueless clan for it's latest campaign.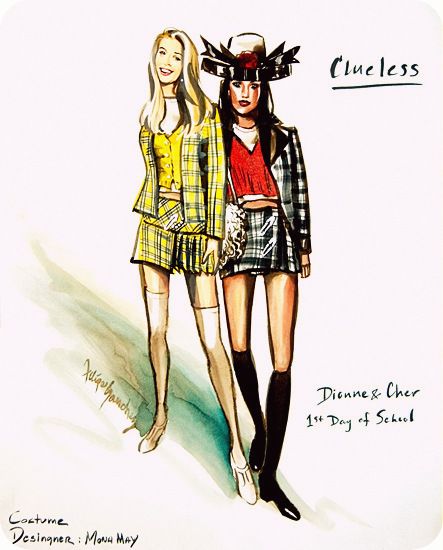 Although previously being offended by my brother's on-going joke and comparison with the girls in the film, watching back now, I realise now that that girl Cher speaks a lot of truth!
sources: tumblr, wildfox
At this moment in 2014, I'm revising furiously for exams and reading endlessly for essays to hand-in. I'm losing my mind slightly as I've always been one who enjoys the company of others and social contact, but while everyone (including myself!) is stressed with work, it's hard to lie-back and just have fun and natter.
How is your 2014 going? Are you going to be reminiscing and dressing from the 90s anytime soon?
Hope you're all well,
Speak soon,
A.x